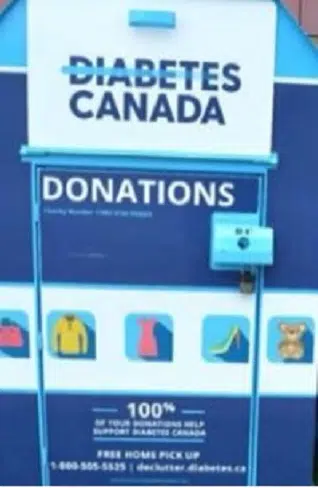 Donation bins in West Vancouver have been taped shut after a man died after getting trapped in a bin on New year's Eve.
This morning, another death in Toronto was reported, after a woman became stuck.
Diabetes Canada is just one of the organizations that uses the bins to collect clothing donations.
They are taking steps to avoid this type of tragedy.
Since 2015, there have reportedly been at least eight Canadians have died after getting trapped, while trying to use the bins for warmth, or trying to take items from inside.
Diabetes Canada will retrofit its clothing donation bins in effort to prevent injury | Diabetes Canadahttps://t.co/wHK3ovOrze . . .

— 91.9The Bend News (@919TheBendNews) January 8, 2019
Diabetes Canada has around 4000 clothing donation bins across Canada and they are in the process of being modified in an effort to prevent injury or death to those misusing or trying to gain entry into the bins.
All modifications are expected to be completed by January 18th.
There's no word on whether other organizations are also considering changes to their bins.